one million
On August 16, Vivint reached an important milestone as a company when its one-millionth system was installed.
"This milestone represents a lot of hours, knowledge, and experience. It takes a lot of hard work to do what we do year in and year out. Our millionth install is a testament to the leadership and talent in our company and the good decisions we've made over the years," Shawn Brenchley, Senior Vice President and Chief Recruiting Officer, said.
James Owen from Alabama has had a security system since his wife's death in 1996. However, over the last few years he was unsatisfied with the setup, technology, and service. He was disappointed to find out how costly an upgrade with the previous company would be as well. All that changed in August when a Vivint representative knocked on his door.
"I was impressed right away with what I learned about Vivint and the system. It was also very exciting to find out that I was the millionth installation. The company has been so kind to me and generous in their gifts and offerings," Owen said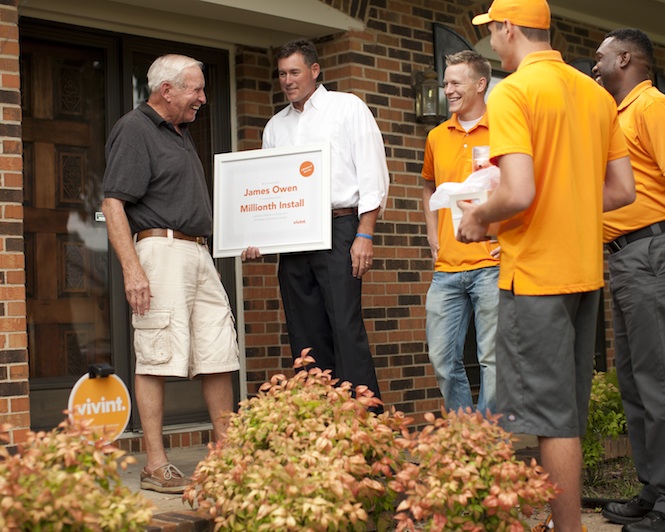 Owen was presented with an official millionth install plaque and upgraded to the full-automation package with three pan and tilt cameras, three automatic door locks, and three small appliance modules. Owen also received an iPhone and iPad to help him take full advantage of his system and a lifetime of free service and monitoring for his system.

"I am so happy with how the system meets my needs. I have a boat about 40 miles away from my house and I like to spend a lot of time on it. I'm especially pleased to be able to control and manage my house while I'm out on the boat. I also really like having two panels in my home to ensure I can always get to one if I need help. It gives me great peace of mind," Owen said.
The past, and the future
Vivint's journey began in 1999 when the company started as a summer sales program. Since then the growth of the company has been steady, impressive and above that of competitors—a trend Brenchley is certain will continue.
"We don't just want to be the largest home automation company, we want to be the best. We are dedicated to taking care of our employees, and providing the quickest response times, and best products and services to our customers," Brenchley said. "There's no reason we can't continue to make good choices, be innovative and grow. This is only the beginning."