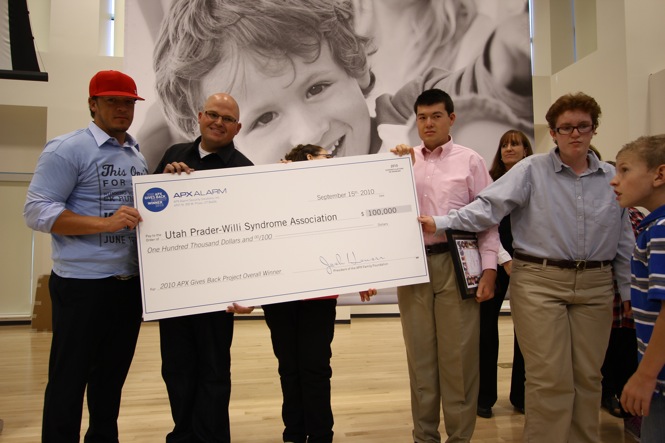 vivint gives back results
The mission of Vivint is simple: to protect families and Vivint is dedicated to doing so in any way they can.
At the beginning of the summer Vivint announced the Vivint Gives Back project, which would award a total of $250,000 spread out among six worthwhile charities, to help accomplish the vision of Vivint Gives Back and restore hope to families in need. Charities across the United States and Canada were nominated and participated in an online voting competition on Facebook to determine a grand-prize winner of $100,000 and five runners-up – one from each of the five participating regions – winning $30,000 each. On Monday Aug. 23 the winners of the Vivint Gives Back competition were announced.
The Utah Prader-Willi Syndrome (PWS) Association received more votes than any other charity winning the grand-prize. PWS is a genetic disorder and life-long condition that affects the brain causing a chronic feeling of hunger that can ultimately lead to excessive eating and morbid obesity. PWS is often complicated by developmental delays, low muscle tone, mental retardation and behavioral issues. The PWS Association is dedicated to providing a network of support for families and professionals as well as raise funds to directly benefit those with PWS in Utah.
The Pacific region winner is the Prader-Willi California Foundation dedicated to helping those affected by PWS in California. In the Mountain Region the Heart 2 Home Foundation won the much needed funding. Heart 2 Home is a 100% non-profit group with no paid staff that organizes and carries out home improvement/renovation projects for families in need. The winner in the Central region is The Tapestries of Life, a mercy ministry that provides aid to the poor in sister cities in Mexico and is currently constructing an orphanage in Guadalupe, Mexico. CHERUBS – The Association of Congenital Diaphragmatic Hernia (CDH) Research, Awareness and Support – is the winning charity in the Eastern Region. CDH is a condition that occurs when the diaphragm of a baby fails to fully form allowing abdominal organs into the chest cavity thus preventing growth of the lungs. CHERUBS is dedicated to making sure affected families have the support and information they need. In Canada the Alberta Association for Community Living helps children and adults with developmental disabilities have access to education, work opportunities and anything else they need to have a good life in their community.
Vivint is proud to have been able to help so many worthwhile charities and is happy to announce that the Vivint Gives Back project will be back in 2011 allowing even more charities to get needed funding for their important causes.
Grand Prize Winner Utah Prader-Willi Syndrome Association
Pacific Runner up Prader-Willi California Foundation
Mountain Runner up Heart 2 Home Foundation
Central Runner up Tapestries of Life
Eastern Runner up CHERUBS
Canada Runner up Alberta Association for Community Living